Congratulations to our marathon runners!
We did it!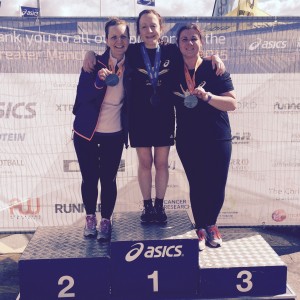 Dear Parents,
First of all, a big thank you for sponsoring us to help raise funds for our school defibrillator! Our total is now standing at £518 and the PTA have pledged to fund the remaining total in order to purchase the school defibrillator. Therefore we should be able to get this ordered in the next few days!
Sunday was a fantastic day and the three of us are still absolutely delighted in our marathon and half marathon achievements (yet we are also aching!) I managed to get around the marathon in 4hours, 10 minutes and 31 seconds, which was better than I had hoped so I am over the moon!
The winner of the sweepstake was Kian Walker in Year 5 who chose the time of 4 hours and 11 minutes. The four children who won £5 book vouchers for the school book fair were Sam Wilson (Y6), Oliver Meekings (Y1), Joshua Stevenson (Y3) and also Skye/Henry Whitton (Y6/3).
Today Year 5 carried out some 'market research' in Shaw town centre to find out where the current nearest defibrillator is and whether the local community is aware of this. We discovered on our travels that there is a defibrillator at Asda Shaw, the sports centre and also at the dentist next door to the Pound Bakery. We managed to pop into twenty seven different businesses so there may be one or two more companies with defibrillators that we didn't encounter. The children were keen to tell the shop keepers and companies about the fact that we will soon be purchasing one for Farrowdale House and that as a community, they can access ours if they are ever in need.
I was very impressed with how well the Year 5 children spoke to the adults in each shop and they made me a very proud teacher.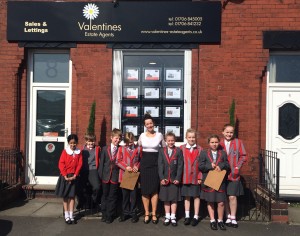 Here are the Year 5 children with Mrs Valentine, at Valentines Estate Agents, whose son Noah used to attend Farrowdale House.
Finally I'd like to say on behalf of all the staff at Farrowdale House, thank you again for all your support and for helping us raise this superb figure.
Miss Wall.